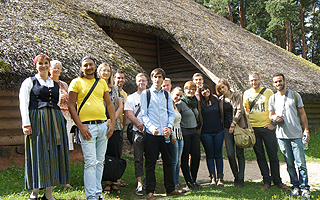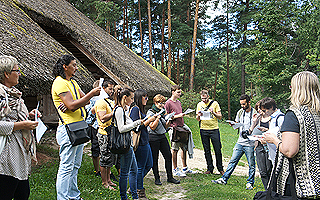 EILC LATVIJĀ
In my opinion, this kind of course is interesting for getting to know the culture and language of country. I would like to have more excursions to see more cultural sites, so I could understand much better Latvian culture.
I liked this course very much. Teachers were really good, people and students were friendly and I was able to learn Latvian so fast. I would repeat this experience. Thank you for all.

I think that the EILC course is very useful. Less widely spoken languages can't study much in Europe but I believe that is very important to know a little of official language of the Erasmus host Country.

First of all it is important in everyday communication to know some words, to understand simple texts and ask for information. I will recommend this country and this course to all other students. (Claudia, Italy)
Of course after two weeks I don't speak fluently in Latvian, but I can get along in my everyday life. I began to feel comfortable speaking Latvian, ordering coffee, saying "hello" etc. In my opinion it is really important to communicate in the native language of the country you're staying in.

The lessons and excursions were funny and interesting. We learnt not only language but cultural aspects as well.

The best moment was when at the ERASMUS pub crawl, I introduced myself to locals using Latvian. I was congratulated on how good my Latvian is and they expected that I was already learning Latvian for one semester, but that was just after 2 weeks of the Intensive Language Course! (Alexandra, Italy)

Even the fact that the language course was very short and we were on a tight schedule, we got a good and helpful introduction in the Latvian language and culture. The atmosphere was pleasant and there was an active Exchange between students from different countries. Cultural offers were really good and interesting.

While I applied for this course, I thought it will be very hard and that I would not be able to learn enough Latvian. Somehow I found very good teachers who always knew how to motivate us to learn more and more. Throughout the course, i classes and excursions I felt very comfortable.

Most of all I liked excursion to the ethnological museum of Latvia, it was really interesting and I am thankful that they took us there. Excursions were very nice, we learned much about culture and traditions.
First of all I appreciate the opportunity of learning Latvian, because I think that it is very useful to know the language of a country and it could be useful to know the culture and more easily adapt into the country. I have learned few Latvian expressions, but now I can say the most important words in Latvian and I think that it will be useful for my stay in Riga. (Pol, Spain)