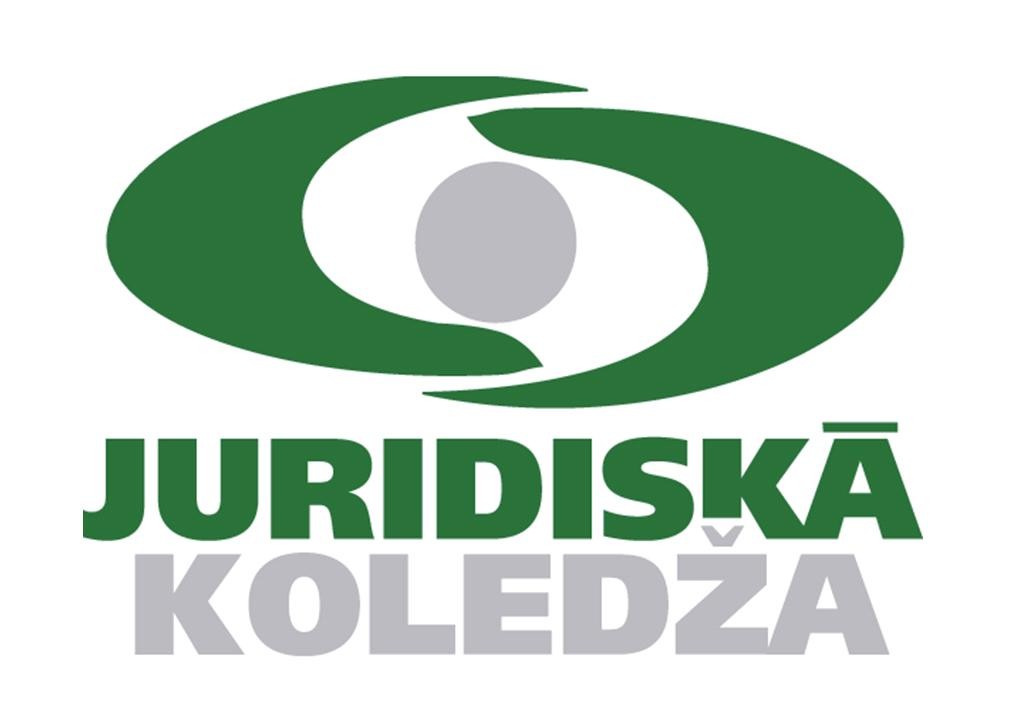 Sabiedrība ar ierobežotu atbildību "JURIDISKĀ KOLEDŽA"
VRN 40003506758
Kr. Valdemāra 1c, Rīgā, LV-1010, tālr. 67508005, tālr./fakss 67508006, e-pasts: Этот адрес электронной почты защищён от спам-ботов. У вас должен быть включен JavaScript для просмотра.
mājas lapa: www.jk.lv Filiāles: Gulbenē – tālr. 29224936, Liepājā – tālr. 63484399,
Valmierā – tālr. 29191804, fakss 64222459, Ventspilī- tālr. 63607798, fakss 63607799
SEB banka Rīdzenes filiāle, kods UNLALV2X, konts LV67 UNLA 0002 0524 69159
Diploma supplement
PK E Nr. xxx
This Diploma Supplement follows the model developed by the European Commission, Council of Europe and UNESCO/CEPES. The purpose of the Supplement is to provide sufficient independent data to improve the international "transparency" and fair academic and professional recognition of qualification (diplomas, degrees, certificates etc.). It is designed to provide a description of the nature, level, context and status of the studies that were pursued and successfully completed by the individual named on the original qualification to which this supplement is appended. It should be free from any value judgements, equivalence statements or suggestions about recognition. Information in all eight sections should be provided. Where information is not provided, the reason should be explained.
1. INFORMATION IDENTIFYING THE HOLDER OF THE QUALIFICATION:
1.1. family name: Xxxx
1.2. first name: Xxxx
1.3. date of birth (day/ month/ year): xx.xx.xxxx.
1.4. student identification number or code: xxxxxx-xxxxxx
2. INFORMATION IDENTIFYING THE QUALIFICATION:
2.1. name of qualification: xxx
2.2. main field(s) of study for the qualification: xxx
2.3. name (in original language) and status of awarding institution:
Juridiskā koledža, accredited on 27.11.2001, No. 027; founded by a juridical person as a higher educational institution
2.4. s. name and status of institution (if different from 2.3.)
administering studies: the same as in 2.3
2.5. language(s) of instruction/examination: latvian
3. INFORMATION ON THE LEVEL OF THE QUALIFICATION:
3.1. level of qualification:
Diploma of the first level higher professional education, see item 6.1
The fourth level of professional qualification, see item 6.2
3.2. official length of programme, start and end of the acquisition of the programme:
two years and two months of full-time studies, XX credit points (XX ECTS credit points),
3.3. access requirements:
General secondary education or secondary vocational education
4. INFORMATION ON THE CONTENTS AND RESULTS GAINED:
4.1. mode of study: xxx
4.2. programme requirements:
- to acquire theoretical knowledge and practical skills in the chosen special to acquire skills how to classify facts and circumstances legally correctly, how to analyse and draft legal documents and how to analyse legal proceedings;
- to acquire good knowledge in national and international legislation;
- to acquire skills in using up-to-date information technologies;
- to work out and present one's qualification paper (8 credit points worth) and to pass the end exam.
- to train a competitive specialist corresponding to the fourth level of the professional qualification – assistant to a lawyer, see item 6.2.
4.3. grading scheme and grade distribution guidance:
Achieve-ment level

Grade

Approx. ECTS grade
Evaluation
SUBJECTS OF GENERAL EDUCATION
xxx
x
x
x
xxx
x
x
x
MANDATORY SUBJECTS
xxx
x
x
x
xxx
x
x
x
SPECIALIZATION AND OPTIONAL SUBJECTS
xxx
x
x
x
xxx
x
x
x
PRACTICE
xxx
x
x
x
FINAL EXAM
xxx
x
x
x
4.4. grading scheme and grade distribution guidance:
| | | | | |
| --- | --- | --- | --- | --- |
| Achieve-ment level | Grade | Meaning | Approx. ECTS grade | Proportion of a grade among students of this programme |
| very high | 10 | with distinction | A | ...% |
| very high | 9 | excellent | A | ...% |
| high | 8 | very good | B | ...% |
| high | 7 | good | C | ...% |
| medium | 6 | almost good | D | ...% |
| medium | 5 | satisfactory | E | ...% |
| medium | 4 | almost satisfactory | E/FX | ...% |
| low | 3, 2,1 | unsatisfactory | Fail | ...% |
The average grade of the qualification acquirer: 5,7, see item 6.3
4.5. overall classification of the qualification: no
5. INFORMATION ON THE FUNCTION OF THE QUALIFICATION:
5.1. access to further study:
Having the rights to continue one's studies at the second level higher professional educational programmes
5.2. professional status: not provided for awarding
6. ADDITIONAL INFORMATION:
6.1. additional information:
The study programme "xxx" at the College of Law for obtaining the qualification of... xxx... at the first level higher professional education was accredited on xx.xx.xxxx. (№ XXX) for the xxx period of accreditation of X years
6.2. the fourth level of theoretical and practical professional qualification giving the possibility to perform a complicated job of an executor and to manage the job of other specialists
6.3. supplement to the item 4.4:
The average grade of the qualification of the acquirer is calculated:
Aw = SUM(a*f) / SUM(f), where:
aW – an average grade;
a – the obtained evaluation for each part of the programme;
f –the volume of this course expressed in credit points.
6.4. this appendix to the diploma is valid only together with the diploma PK E № xxx
6.5. further information sources:
College of Law
1c Valdemāra str., Riga, Latvia, LV-1010, telephone: +371-67508044, fax: +371-67508006
e-mail:Этот адрес электронной почты защищён от спам-ботов. У вас должен быть включен JavaScript для просмотра.; web page: www.jk.lv
Academic Information Centre (Latvian ENIC/NARIC)
2 Vaļņu str., Riga, Latvia, LV-1050
telephone: +371-67225155, fax: +371-67221006 , website: www.aic.lv
7. CERTIFICATION OF THE SUPPLEMENT:
7.1. date: xx.xx.xxxx.
7.2 signature: ______ T. Jundzis, Dr. iur, Dr. habil. sc. pol.
7.3. capacity: Director of College of Law
7.4. official stamp or seal:

8. INFORMATION ON THE NATIONAL HIGHER EDUCATION SYSTEM:

Completed secondary education is required for admission to studies in a university/college. All holders of certificates and diplomas attesting to general secondary education, or vocational secondary education, meet general admission requirements. However, universities/colleges are free to set specific additional admission requirements, e.g. additional subjects that have had to be taken at the secondary level to quality for admission to a particular programme.

Higher education (HE)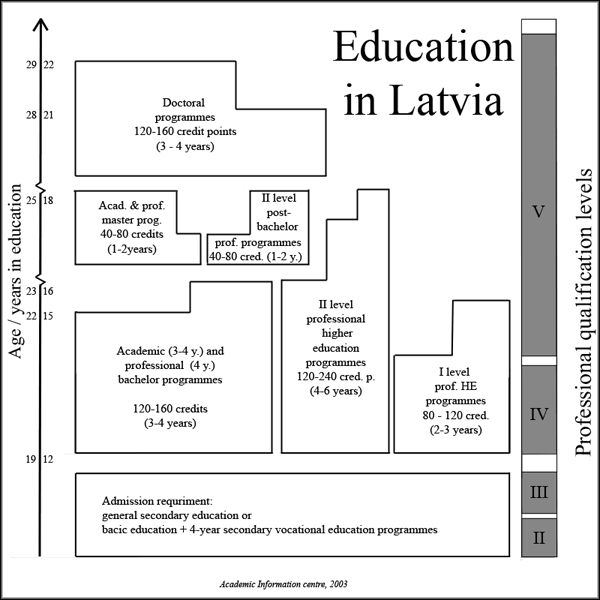 Bachelor's (bakalaurs) and master's (maģistrs) degrees are awarded both in academic and in professional higher education programmes.
The objectives of academic higher education (HE) are to prepare graduates for an independent research career, as well as to provide a theoretical background for professional activities.
Academic programmes leading to bachelor's degrees comprise 120 – 160 credits [1] : with the compulsory part giving ≥ 50 (75 ECTS) credits, electives, ≥20 (30 ECTS) credits, thesis counting for ≥10 (15 ECTS) credits, and the rest left to students as their free choice. The duration of full-time studies is 6 – 8 semesters.
Academic programmes leading to master's degrees, comprise 80 (120 ECTS) credits, of which ≥ 20 (30 ECTS) credits are allocated for the thesis, with the compulsory part of the programme, including theoretical aspects of the specific field of scientific discipline, accounting for ≥ 30 (45 ECTS) credits. and practical application of theory to solving actual problems accounting for ≥15 (22,5 ECTS) credits .
Academic education programmes are implemented according to the state standard for academic education.
The objectives of professional HE are to provide in-depth knowledge in a particular field, preparing graduates for the design or improvement of systems, products and technologies, as well as to prepare students for creative work, research and teaching activities in this field.
Professional HE programmes, leading to a professional bachelor's degree, are designed to ensure professional competence; they comprise at least 160 (240 ECTS) credits and consist of general courses giving ≥20 (30 ECTS) credits, theoretical courses of the chosen field giving ≥36 (54 ECTS) credits, specialised courses giving ≥60 (90 ECTS) credits, optional courses making up ≥6 (9 ECTS) credits, practical work accounting for ≥26 (39 ECTS) credits, and state examinations, including thesis work giving ≥12 (18 ECTS) credits.
Professional HE programmes leading to a professional master's degree comprise no less than 40 (60 ECTS) credits made up as follows: recent advance in the field, in theory and in practice, making up ≥7 (10,5 ECTS) credits, practical work giving ≥6 (9 ECTS) credits, state examinations including thesis work giving ≥20 (30 ECTS) credits, as well as research training, courses in design, management, psychology etc.
Graduates of both types of the bachelor's degree gain access to masters studies, graduates of the master's degree, to doctoral studies.
Professional studies in medicine, dentistry and pharmacy (5 and 6 year courses of study), are equal to master's degree and graduates may continue studies in doctoral level programmes.
Apart from the programmes leading to bachelors and masters degrees, there are other types of professional higher education programme:
- first-level professional HE (university college) programmes comprising 80–120 (120–180 ECTS) credits, and leading to a 4th level professional qualification. These programmes are targeted mainly at the labour market. However, graduates of first-level programmes may continue their studies in second-level professional programmes.
- second-level professional HE programmes leading to a 5th level professional qualification. Such programmes can comprise either, at least 40 (60 ECTS) credits, for holders of a bachelor's degree or at least 160 (240 ECTS) credits for secondary school leavers. In both cases programmes should include practical work giving at least 26 (39 ECTS) credits, and final examinations, including thesis accounting for ≥10 (15 ECTS) credits. Graduates of these programmes that include 70 (105 ECTS) credits as the compulsory part of the bachelor's programme, have access to master's studies
Doctoral studies
From January 1, 2000 onwards a single type of doctoral (doktors) degree is being awarded in Latvia. A master's degree is required for admission to doctoral studies. A Doctoral degree is awarded after public defence of the doctoral thesis and successfully passage of examinations in the chosen scientific discipline. The doctoral thesis must include original research results and new findings in the scientific discipline, and may be a result of three to four years of doctoral studies at a higher education institution, or an equivalent amount of independent research. The doctoral thesis may be a dissertation, a compilation of relevant single peer-reviewed publications, or a monograph. The right to award the doctoral degree are delegated by decision of the Cabinet of Ministers to promotion councils established at universities. The procedure for awarding the doctoral degree is overseen by the Commission of the Scientific Qualification.

Grading system: a 10-point grading scheme exists for assessment.
| | | | |
| --- | --- | --- | --- |
| Achieve­ment level | Grade | Meaning | Approx. ECTS grade |
| very high | 10 | izcili (with distinction) | A |
| very high | 9 | teicami (excellent) | A |
| high | 8 | ļoti labi (very good) | B |
| high | 7 | labi (good) | C |
| medium | 6 | gandrīz labi (almost good) | D |
| medium | 5 | viduvēji (satisfactory) | E |
| medium | 4 | gandrīz viduvēji (almost satisfactory) | E/FX |
| low | 3, 2,1 | negatīvs vērtējums (unsatisfactory) | Fail |
Quality assurance. According to the Latvian legislation, state-recognized degrees/diplomas may be awarded upon completion of an accredited programme in an accredited HE institution holding a state-approved Satversme (charter), or college statute. Decisions on programme accreditation are taken by the Accreditation Board, while those on institutional accreditation – by the Higher Education Council.

More information:
1. On the educational system: http://www.izm.lv; http://www.aic.lv; www.eurydice.org
2. On the status of various programmes/institutions: http://www.aiknc.lv
* A Latvian credit point is defined as a one-week workload of full-time study. An average workload of a full-time study year in most HE programmes is 40 credits. The Latvian credit point system is compatible with ECTS. The number of ECTS credits is found by multiplying the number of Latvian credit points by a factor of 1.5.